Find Military Discounts at Ed Voyles Kia of Chamblee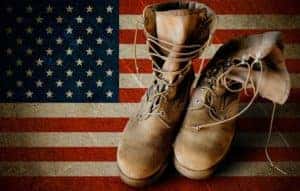 From Woodstock to Cobb County, we here at Ed Voyles Kia take pride in being part of the Metro Atlanta, Smyrna, and Marietta communities. And being a part of the community means being able to give back. That's why Kia proudly offers a military discount that can get you up to $400 off a new Kia vehicle. Whether you are actively serving at Dobbins Air Reserve Base or a veteran, please come by and let us say thank you with the Kia Military discount. Contact us for more information or questions today.
The Kia Military Discount in Atlanta
You don't have to be an active member of the military to deserve thanks. The Kia Military Discount is for a wide array of military members.
Active military members
Reserve military members
Military veterans
Those in the military that have been honorably discharged or are on disability
Immediate family members of any of the above
You have done and continue to do so much for us each and every day. It's time you let us do something for you. Contact us today to see which Kia cars and SUVs are eligible.
Search our Extensive Online Kia Inventory
From Dobbins Air Reserve Base to Woodstock, we proudly offer the largest selection of the latest and newest Kia cars and vehicles. Whether you are looking for the Kia sedan for your daily commute around I-85 or the Kia Telluride SUV for family-fun adventures outside the city, search our inventory online and see if you are eligible for the Kia Military Discount.

Shop New
Reliable and Loaded with Value, Test Drive a New Kia Today
Remember, the Kia Military Discount is only available at participating dealerships. Luckily for you, Ed Voyles Kia of Chamblee proudly serves eligible military personnel and their family members from Woodstock, Kennesaw, Marietta, Smyrna, and the Metro Atlanta communities. Kia is renowned for its durable vehicles all at a starting price you deserve. So, while you're already saving in your search of a Kia versus its competition, why not get the military discount you deserve and save more! Visit our Chamblee dealership today!
Let Ed Voyles Kia in Chamblee Say Thank You with the Military Discount
Come and start saving with Ed Voyles Kia. Whether you're in Smyrna, Woodstock, Kennesaw, or anywhere in the Metro Atlanta area, let our dealership say thank you by extending all military members, veterans, and immediate family members a discount of up to $400 on new Kia vehicles. Whether you search is for a Kia Sedona minivan for the entire family or an athletic Kia Sportage for weekend adventures of the base, come on by and find out more at our Chamblee location.

Contact Us