We Welcome Your Feedback and Comments
Do you have questions or comments for us? We'd love to hear them! Fill out the form and we will get back to you as soon as possible.
If you need help with any aspect of the buying process, please don't hesitate to ask us. Our customer service representatives will be happy to assist you in any way. Whether through email, phone or in person, we're here to help you get the customer service you deserve.
KIA Brand Leads the
Industry in New Car 
Quality

The auto industry is back on track as initial quality of new vehicles this year improves from the 2014 decline in overall new-vehicle quality, according to the J.D. Power 2015 U.S. Initial Quality StudySM (IQS). The study measures problems experienced by some 84,000 new-vehicle buyers or lessees during the first 90 days of ownership.

J.D. Power evaluates initial quality based on the number of problems experienced per 100 vehicles (PP100), thus a lower score represents higher quality.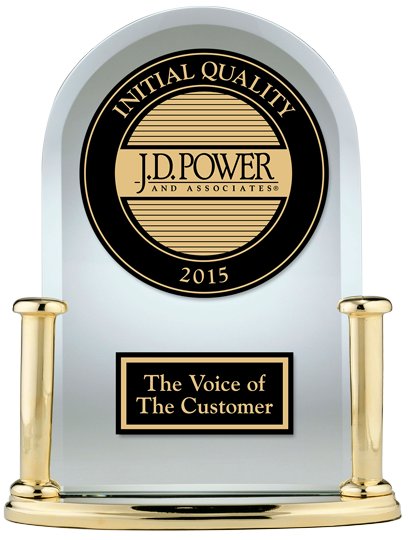 Kia Leads All Non-Premium Nameplates
Big news this year is that Korean brands lead the industry in averaging the fewest problems per 100 vehicles--only 90 PP100, which is 11 fewer PP100 than in the 2014 study. Kia nameplate rank second to Porsche among the top five brands in initial quality this year. In addition, Kia, for the first time in the study's 29-year history, leads all non-premium nameplates in initial quality.

The Korean brands outperform the Japanese and U.S.-based, or domestic, brands as well. It is also noteworthy that for the first time, the European brands (113 P100) outperform Japanese and domestic brands' average quality score (both average 114 PP100). 

Japanese Brands Fall below Industry Average for First Time
Although the Japanese brands' average score improves by 2 PP100 this year, the lower problem score was not enough to keep pace with the industry's overall improvement, which means Japanese brands fall below the industry average for the first time in the history of the U.S. Initial Quality Study. Only four of 10 Japanese nameplates included in the study post fewer problems in 2015 than in 2014.

"For so long, Japanese brands have been viewed by many as the gold standard in vehicle quality," said Renee Stephens, vice president of U.S. Automotive at J.D. Power, who notes that the Korean makes are really accelerating the rate of improvement. "They're stepping up the improvements on existing models, but are also working up front to launch vehicles with higher quality."


2015 Initial Quality Study Rankings
At the brand level, Porsche (80 PP100) and Kia (86 PP100) rank highest among all nameplates included in the 2015 Initial Quality Study. Kia reduces its average PP100 score by a significant 20 PP100.